This is part 1 of the last Conclave blog from Angelika. It is a tour de force all about the book stores and the bookish in Vancouver. The second part talks about Vancouver's Book events and will appear shortly.
Per capita, the residents of Vancouver buy more books than the residents of any other North American city. So there should be a lot of books stores! Alongside the giant book store (Chapters/Indigo is the main book chain store in Canada with over 140 large and smaller bookstores across the country) are several independent and antiquarian bookstores. But in the last years, many bookstores have had to close, down-size from 2 or 3 branches to only one or merge with another bookstore. Sometimes, a new bookstore opens and closes again in a span of 1-2 years. 
In June 2013, The Paper Hound opened its doors to Vancouver's booklovers. They have old books and also some new books from local presses such as Anvil and Arsenal Pulp Press.  
          Here's how Rod Clarke and Kim Koch, owners of The Paper Hound describe their stock: "We don't specialize in one particular kind of book, but we favour the curious, unusual, beautiful, visually arresting, scholarly, bizarre, whimsical, and classical."
          The quotation was found here:
 http://literarytourist.com/2013/07/we-favour-the-curious-unusual-beautiful-visually-arresting/ - a wonderful site for travellers who love books!
          The Paper Hound is located on 344 West Pender Street, near 3 other well-known antiquarian book stores: MacLeods (455 West Pender St., corner Richard St.), Albion Books (523 Richards St.), Criterion Books (434 West Pender St.). A nice "book row", be sure to drop by.  
          The addresses and opening hours for these 4 and a few other bookstores and paper stores can be found on my keepsake for the Conclave.
Black Bond Books (Book Warehouse), an independent bookstore since 1963, is close to our hotel: 632 West Broadway,  between Heather and Ash St.

Other people try a different approach; Sons & Lovers  don't have a store. They sell their books (mainly classical titles) at pop-up store events, such as the "Sons & Lovers Summer Reading Popup Bookshop". The third pop-up was on June 23, 2013.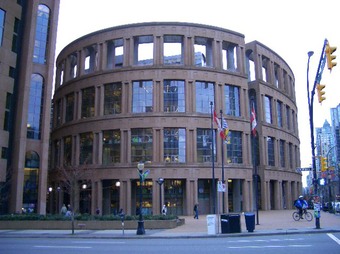 The Public Library in Vancouver, established 1869 as a library for the employees of the Hastings Mill, is now the second largest public library system in Canada. It has 22 branches and more than 2.8 million items in its collections. The central branch is located 350 West Georgia Street, on Library Square which is surrounded by Homer, Hamilton, Robson and Georgia Streets. 

          The Friends of the the Vancouver Public Library operate book'mark, the Library Store open Mon-Fri. 10 am – 5 pm, Sat. 11 am – 6 pm.
          This library has a new site and building since 1995 and has an interesting architecture. It is shaped like a Roman Amphitheater, designed by Moshe Safdie and DA Architects. You can still see the old rectangular building inside the new shell, it has been carefully integrated into the stunning new shell.