Angelika brings us more about Vancouver:
Vancouver is an easy city to get around. Buses and the Sky Train are the main ways of transportation but also the AquaBus, SeaBus and Ferries are interesting transport options.
The Sky Train is the oldest and one of the longest automated driverless light rapid transit systems in the world. There are 3 lines: Expo, Millennium and Canada Line. It runs on elevated tracks and offers beautiful views of downtown and the North Shore Mountains.The Canada Line is the one nearest to our hotel. It gets us from and to the airport and to downtown Vancouver, to Water Front and the Vancouver Lookout. 
We will only need Zone One (Downtown, UBC-Area, Stanley Park), or Two Zones for the Airport and North Vancouver (Capilano Bridge and Grouse Mountain).
Tickets are valid for 90 minutes including transfers. Fares: Zone One $ 2.75 for adults, $ 1.75 for seniors
  ZoneTwo $ 4.00 / 2.75 seniors.
For Airport  Zone Two (or Zone One after Peak Hours) + the $5.00 Canada Line YVR AddFare. 
After 6:30 p.m. on weekdays and all day Saturday, Sunday and Holidays, discount fares apply and buying a one-zone ticket will allow you to travel through all zones.
If you are planning some bus and train riding, the TransLink FareSaver Tickets are your best bet. A book of 10 tickets for Zone One costs only $ 21 (seniors $ 17.50) instead of $ 27.50 for 10 single tickets.On arrival at Vancouver International Airport you can get your first impression of BC culture. Each Terminal has spectacular displays of First Nations art. Download this pdf file for a tour http://www.yvr.ca/Libraries/Comms_Documents/Art_Architecture_tour_YVR.sflb.ashx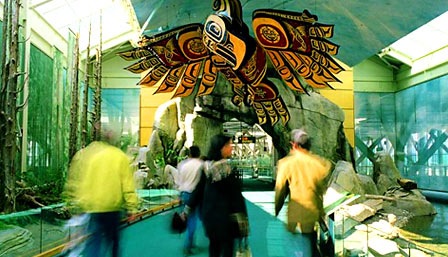 There are several Hop on – Hop off buses in Vancouver:
Vancouver Trolley Company 
Big Pink Bus (Grey Line)
Big Bus 
They all cost about $40 for 1 day and $45 for 2 days. Some offer packages with entrance fees to attractions or shuttles to Grouse Mountain, Capilano Suspension Bridge etc.
All tour buses stop at Granville Island, which is the closest stop to our hotel.
There is no public transport all around Stanley Park. The bus # 19 stops near the Aquarium/Rose Garden. There used to be a 45-minute narrated trolley tour through the park, but on the website of the Vancouver Trolley Company is a notice that the Park shuttle has been cancelled for 2013.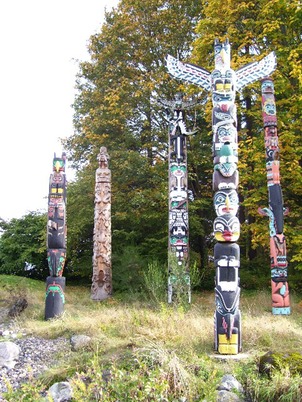 There are horse-drawn carriage tours ($31.99 / Adults) available and the Stanley Park Miniature Train which takes you on a 2 km journey through the forest. 
A walk or walk or bicycle ride around Stanley Park along the seashore is a great experience with wonderful scenery, but a 22 km long one 
Or how about a Hop on – Hop off  ferry  trip?
The False Creek Ferry offers a Day Pass for $15 for unlimited hopping at nine stops. See the next blog with more information.  The AquaBus also offers Day Tickets but they have slightly different and fewer destinations. 
All images courtesy of Tourism Vancouver.