The Holiday Inn, West Broadway is on West Broadway, in Fairview. Downtown Vancouver is only three SkyTrain stops from the Canada Line station Broadway-City Hall (2 blocks from our hotel). One more stop and you are at Waterfront Station, where the famous Vancouver Lookout is and nearby Gastown, the oldest part of the city, with lots of sights, restaurants and shops. In Downtown Vancouver, the area Burrard to Howe and West Hastings to Georgia has many fantastic stores and shopping malls.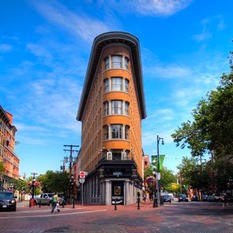 Granville Street is a main thoroughfare through Vancouver with two shopping areas to visit. 

On the Downtown part of Granville Street you can find The Bay and Sears department stores, Pacific Centre shopping mall, Robson Street shops and restaurants, as well as many unique stores and places to eat all along Granville. 
The southern part of Granville St., only a few blocks from our hotel, or 1 stop with the express bus # 99, has become one of Vancouver's trendiest shopping neighborhoods, full of galleries and stores with fashion, home furnishings, antiques, cookware etc. It is often called "Gallery Row" because of the many art galleries.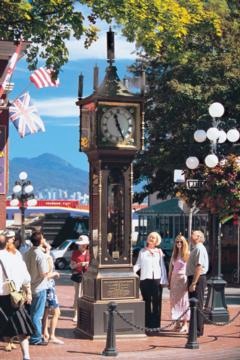 But also, lots of restaurant's, pubs and yummy sounding bakery places are found here. Meinhardt's Fine Foods (corner 14th Ave.) is a good deli with prepared food to eat on the tables outside and a bakery annex (Picnic), with pastries and coffee. 
We are also quite close to Granville Island, where we will be on Saturday afternoon and further west is Kitsilano, which was a hippie enclave in the 60's and 70's but is now a very popular place for everyone. The Kitsilano Beach is named one of the "10 best city beaches in the world". Most of the action in this area is centered on West Fourth Avenue and West Broadway, with bookstores, ethnic restaurants, cafes and specialty retailers. 
The closest shopping mall to our hotel is City Square on 555 West 12th Ave (on the Northwest corner of the 12th and Cambie intersection, directly across from City Hall). There are many shops and a large international food court. Open: Mon-Wed and Sat from 10am – 6 pm, Thu and Fri from 10 am – 8 pm and Sun from 12 – 5 pm. There is also a post office there.
South of our hotel are two other of Vancouver's wonderful parks/gardens: Queen Elisabeth Park and VanDusen Botanical Gardens. 
Another nice way to spend a few hours is to do the False Creek Ferry Hop on – Hop off  trip mentioned in the blog on "Getting around in Vancouver".  Here are the stops.
The Maritime Museum (also Museum of Vancouver, HR Macmillan Space Centre, Vanier Park, Kitsilano Beach)

The Vancouver Aquatic Centre - At Sunset Beach in the West End, a short walk, either along the Seawall to Stanley Park or up Burrard Street to downtown. David Lam Park – Park surrounded by expensive apartment buildings,  several interesting  sculptures along the waterfront.Yaletown - Trendy mix of warehouse lofts, high-rise apartments, art galleries, night clubs, and restaurants. There are two ferry docks in Yaletown; one is at Quayside Marina and the other is at David Lam Park. Close to the Yaletown SkyTrain Station.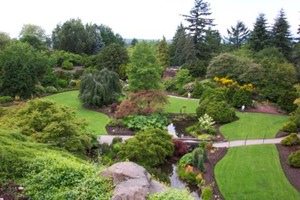 Stamp's Landing - A quaint waterfront neighborhood located on the south shore of False Creek, Several pubs and restaurants (The Wicklow) offering  a spectacular view of the Vancouver skyline. Within walking distance of our hotel.
Spyglass - close to the Olympic Village SkyTrain Station. A public piano for playing outdoors (Public Piano Project "Keys to the street").
Olympic Village/Science World -  Creekside Community Centre in "The Village", and a short walk to Science World, Main St. SkyTrain Station (Expo Line), and the Pacific Central Station. 
Plaza of Nations - on the Northeast shore of False Creek,  with a casino and stadium. This terminal is walking distance to  Chinatown and the Dr. Sun Yat-Sen Garden. 

Coming soon: my last blog about bookstores in Vancouver.
Images courtesy of Tourism Vancouver