Well, maybe not literally! 
Whether you're dining on a Granville Island patio or picnicking in Stanley Park, you're sure to enjoy some fine local food in Vancouver. Angelika put together another blog post, this time mainly about eating and drinking in the city. 
For eating and drinking experiences:
GASTOWN TASTING TOUR
Walking tour through in Gastown with stops at several places for foods and drinks.
Tue – Thur 5 – 8 pm, Fri and Sat 4 – 7 pm. $99 CDN
Vancouver Brewery Tour at the Molson Coors Canada Brewery (Burrard Street).Tue and Thur at 4:30 pm. $20 CDN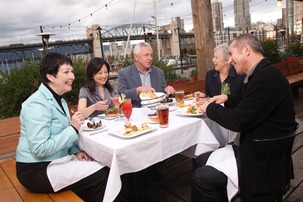 CRAFT BEER 'N' BITES TOUR IN GASTOWN
3 destinations. Beer tasting with hand-selected food pairings. 
Mon – Thur 5-8 pm, Fri – Sun 4 – 7 pm. $75 CDN
Visit the website for more information and reservations. http://www.vancouverfoodtour.com
RATHER HAVE A NICE AFTERNOON TEA?
The Truffles Fine Foods Café at the Van Dusen Botanical Garden (Visitor Center), 5151 Oak Street, serves afternoon tea complete with a three-tier tray of goodies. $35 for 2 and $60 for 4.
VISIT CHINATOWN AT NIGHT
The Vancouver Chinatown Night Market is a shopping extravaganza including Asian traditional handicrafts, fashionable gifts & tasty ethnic snacks. Also live music, storytelling, Mahjong, ping pong tournaments, outdoor classic movie screening. A shopping experience like never before. Open every Friday, Saturday & Sunday, starting May 17 to September 8, 2013. Takes place in Vancouver's Chinatown, 100 & 200 block of Keefer Street (between Gore, Main & Columbia Street). http://vancouverchinatownnightmarket.com/
FIND TREASURES AT THE VANCOUVER FLEA MARKET
Located at 703 Terminal Avenue, only a 5 minute walk from the Main Street Skytrain Station as well as the Via Rail Station.
Saturday and Sunday : 9 am –  5 pm

Thanks again to the Tourism Vancouver website for the image. http://www.tourismvancouver.com/dine/search-restaurants/
It has a very comprehensive section on dining out in Vancouver.
Thanks for putting the post together, AJ.