Not far from the Conclave Hotel is Granville Island, not quite an island but a small peninsula underneath the Granville Street Bridge. After being an industrial area from the 1880s, the Canadian government started leasing to a public market, artists and shops in 1972. Below, Granville Island at night.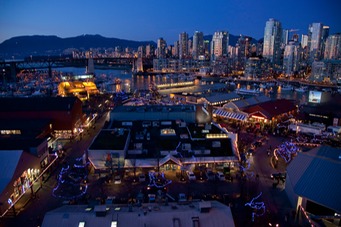 Today, Granville Island is a lively and dynamic place with waterfront restaurants, theatres, galleries, studios, unique shops, cafes and street music.  At Canada's oldest microbrewery – Granville Island Brewery Co. – you can buy limited release beers only available there.  With the countless coffee/tea shops, restaurants and fast food places on Granville Island, it is hard to decide were to eat.
In the Public Market – open 7 days a week – you will find interesting day vendors (artists, crafts people, farm and food artisans) and a spectacular fresh food market (including wonderful pies and pastry). 
There is a rich art community on Granville Island with exhibitions and demonstrations, for example glass blowing and totem pole carving.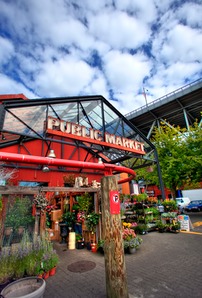 There is also a specialist paper store, gallery, printmaker and letterpress printer, along with lots of other specialist stores. 
Enjoy fantastic views of downtown Vancouver and the mountains or watch the numerous sail boats. You can take a boat ride from here, with a rental boat, or use the Aquabus or the False Creek Ferry  for further explorations.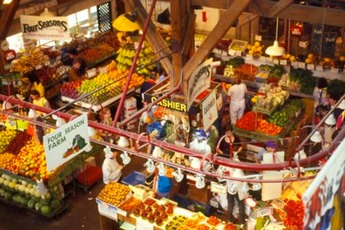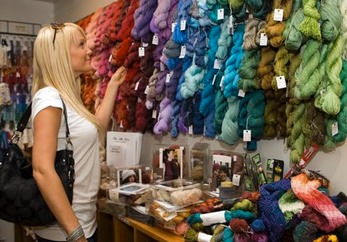 Photo credits: Tourism Vancouver. Their website has a page for Granville Island, http://www.tourismvancouver.com/vancouver/about-vancouver/vancouvers-neighborhoods/granville-island/
and Granville Island also has its own webiste:http://www.granvilleisland.com/
Thanks to my guest Angelika Jaeck, who will be blogging some more after the big guy in the red suit has gone back to the North Pole.