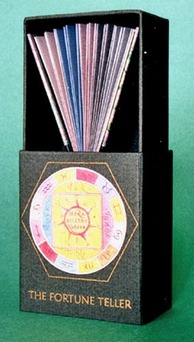 Limited Edition of forty-nine copies signed & numbered. 
A Nineteenth Century Porcelain Doll was the inspiration for this unusual book.  Made in Germany, the doll was dressed in a long hooded cloak, covering a multi-colored pleated skirt made of paper. The owner of the doll was unaware of its secret, which was only revealed to her after an expert examined it on the Antiques Roadshow BBC TV program.
She was a Fortune Teller, the 'fortunes' being hidden inside the folds of the paper strips making up the skirt.  I have recreated the Fortune Teller in book form, so that we can enjoy once again this traditional entertainment.
Muted shades of Ingres paper make up the pages, which are folded so that the book fans out.  Each coloured page is printed with a heart, diamond, spade or club symbol, and by choosing a colour and a suit, the player selects his or her 'fortune'. The book covers are of paste paper, hand painted by Claire Maziarczyk, in shades of green, pink, blue, gold and silver, to tone with the pages.  The spine is of green leather, with the title blocked in gold lettering.
The endpapers are hand printed with gold stars to match the cover of the box, especially made to hold the fan-shaped book.  On the lid of the box is a colour print showing symbols for the planets and the zodiacal signs, from the 1677 edition of the alchemical 'Aureus Tractus', by Agrippa von Nettesheim.
NOTA BENE  'The Fortune Teller' is intended purely as entertainment and the maker accepts no responsibility for any fortune or misfortune that may arise subsequent to its use.  Price CA$ 215.00